Enablement of recurring sessions allows you to create a session that reoccurs at a set frequency.
Recurring classes are available when Conference Sessions is enabled in your event. It is not available if you are using Standard Sessions.

Registration for the series can be made available through a form or session catalog.

After selecting the Recurring Session option when setting up session instances, the interface that allows you to select if the recurrence will take place daily, weekly or monthly, the day(s) of the week, the number of occurences OR an end date.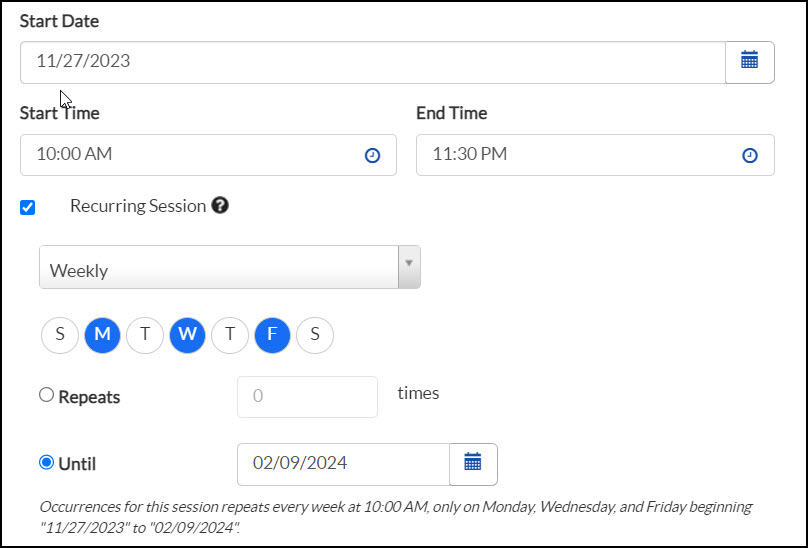 Below you'll find a few very important things to keep in mind about recurring session behavior.
Delayed Creation of Recurring Sessions

When a recurring session is created, the first session instance is created at that time. All the subsequent session instances are created later, within 24 hours in advance of each instance.

Due to this delay, future instances

will not

appear on the calendar or within reports until one day of the next session.

When a recurring session instance is automatically created, all registrations assigned to the main instance are automatically assigned to the subsequent recurring instances including all registered, attended, and no-show registrants. Waitlisted and cancelled attendees are intentionally excluded from this automatic assignment.
Fees, Overlapping Session Conflict Checks and Check-In

Any fees associated with a recurring session will be applied upon selection of the session/class series. Fees cannot be assigned to individual session instances within the series. 

No conflict checks with other sessions on the registration will occur regardless of the event setting not allowing for overlapping sessions.

Session check-in via the Certain Check-In app and Admin interface is available per instance once the session registration assignments have been made.
Edits Following Creation

Once a session is marked as recurring, that option cannot be disabled.

However, the session frequency, count and end date can still be modified as long as the subsequent sessions have not yet been created. With that being said, we suggest confirming the details in advance before creating a recurring session.