With the Certain 8.0 release, the ability to Delete/Delink webinars from your Event and/or Sessions was included. This should allow you to remove webinars that were temporary, created in error, or linked to the incorrect session, without having to create a new session to replace it or take other, more drastic measures to remove the webinars.
Previously, the system would not allow you to delete a Webinar from an Event or Session if there was ever a Registration associated with the Webinar (cancelled or registered). With this new release, you are able to remove Webinars from the Event or Sessions, even if they have active registrations linked to them.
Delete vs. Delink
When you are removing a Webinar from an Event or Session you have two options available: Delete or Delink. If you are using a native Signal integration (Zoom, On24, etc.), then the "Delete" option will both remove the Webinar from your Event/Session AND will Delete it from your Zoom/On24/Third Party system. The "Delink" option will only remove it from your Event or Session. If you want to get rid of the Webinar completely you can "Delete" it, but if you linked it to the wrong Event or Session and want to link it to another one, you can "Delink" it.
**Please Note - if you are using a custom Signal integration for your Webinars, then you would only "Delink" a Webinar from your Event/Session.
How to Delete/Delink a Webinar
For Event Webinars, simply navigate to the Event's Plan > Event Setup > Details > Event Webinar > Click on the option to Delete or Delink the Webinar > Confirm your action.

For Webinars linked to individual Sessions, you would navigate to Manage > Speakers And Sessions > Sessions > Instances > Click on the "link" icon for your Session > Select to Delete or Delink > Confirm your Action.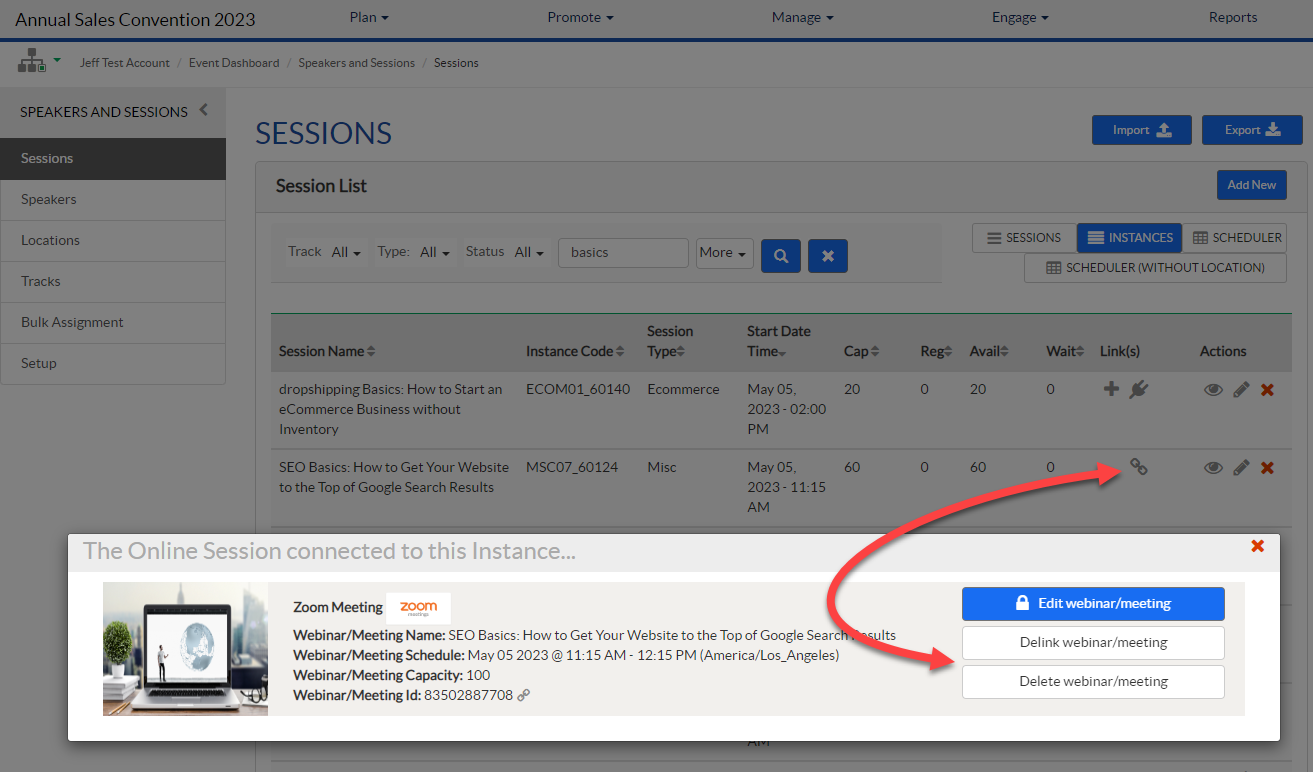 Please Note
Deleting or Delinking a Webinar can be very useful when you are creating or setting up your event. However, once your event is live and people start registering for your event and Sessions, it should only be done if absolutely necessary. Deleting or Delinking a Webinar that has active registrations attached to it could leave your registrants without a working JoinURL for your webinar, or may leave them without an active registration to any new Webinars you may add back to the Event or Session. If you do Delete or Delink a Webinar from a Live Event with Sessions, you would most likely need to then create and run a Signal Replay report (Reports > Add Report > Set Report type to a Reg or Session Signal Replay report type > Run the Report > Select and Active Registrations that may have been affected > Process a Mass action to Replay/Retrigger the Signal Flows.)