From the EVENTS tab, there are three ways to create a new Event:
Create a new Event from scratch.
Copy an existing Event.
Use a Template to create a new Event.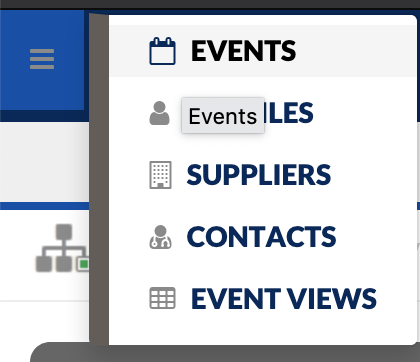 Creating a New Event from Scratch
Create a new Event from scratch if this is the first Event in your account or if the Event you need to create differs significantly from other Events you have built within Certain previously.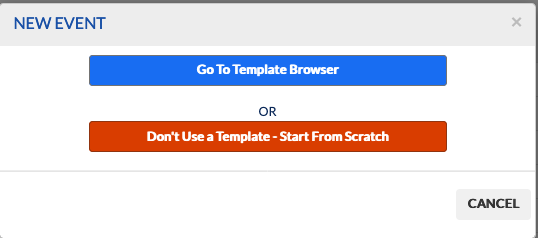 Click Add a New Event and select the Don't Use a Template - Start From Scratch button. This will open the Event Details page is opened, where you can enter all relevant information to create an event.




Once done, click Save

.
Copying an Existing Event
Click the Copy symbol next to any Event within your Account (past, present, live or test) to create a copy of that Event (see screenshot below). You will have the option to deselect areas of the Event that you do not wish to copy over (i.e., Agenda Items or Reports).

You can also Copy an existing Event by going into the Event > Plan > Event Details. Click "Copy Event" in the upper right of the page.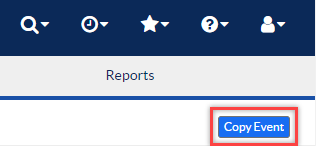 Using a Template to Create a New Event
Templates enable you to specify Events that you wish to make identical copies of in the future. This is helpful if you manage multiple Events with virtually identical parameters and/or look & feel.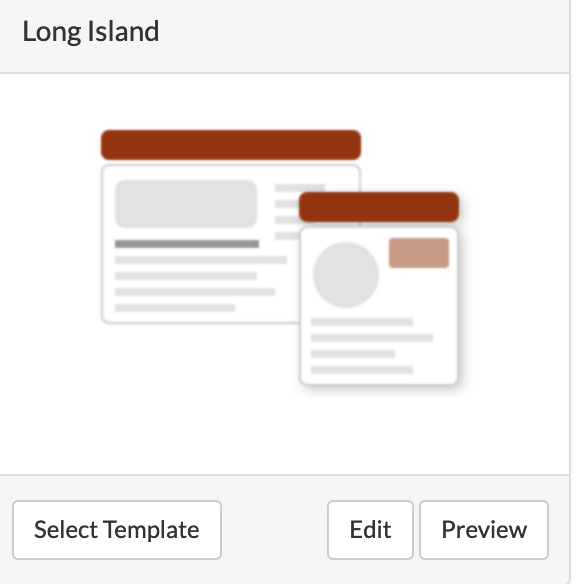 To mark an existing Event as a Template:

Within the existing Event, go to Plan > Configure > Options, and scroll down to Event Template Settings. Check the box next to "Mark this event configuration as a template to copy for future events".
You can optionally upload a thumbnail image/logo to identify the Event Template.
Check/uncheck the Areas to Copy, as needed.
Click Save.

Note: If you mark a real Event as a Template for future use, making any changes to that "Template" will in fact be making changes to your actual Event. You may want to

copy

an Event specifically for the purposes of marking the

copy

as a Template, which will give you the flexibility of making changes at a later time.

Your Template will now appear under the Events > Templates tab.
To create a new Event from a Template:

Click the Events > Templates tab, and select the Template you wish to copy.
Entering Event Details
Regardless of whether you choose to create your Event from scratch, copy an existing Event, or use a Template, you will need to enter the following Event Details for your new Event:
Title: The name of the Event, which can be displayed dynamically on Registration Forms, Web Sites, and confirmation material.

Unique Code: A Unique Code, which is used as the directory name to store files for each Event (images, PDF documents, etc.) and is also available for use in Reports. If you do not supply a Unique Code, Certain will generate one for you. If you do supply a Unique Code, it must be no more than 25 characters long, using letters and numbers only (no spaces). You may wish to abbreviate the Event name or enter an external Event identifier, such as an accounting code that your company uses to reconcile your Event.

Start/End Dates and Times: The date and time that your Event begins and ends (on-site dates). This is typically the date you are publishing as your main conference dates. This is not the date you wish to go live with registration (which is specified under Form > Setup).

Note: Once the End Date/Time has been reached, your Event will no longer appear by default under the Event List. To view Events that have ended, change the view selection from "Upcoming Events" to "Ended in Last 30/60/90 Days" or "All Events".

Time Zone: The time zone in which the Event takes place.

Note: The Time Zone feature works in conjunction with the Add to Outlook Calendar feature, but does not affect the administration side of Certain (i.e., fields such as Reg Date Created, e-commerce transaction times, report run times, history records, etc., will still display in Pacific Standard Time).

Account: The Account the Event will be created in.

Note: It is possible to copy an Event down from a Parent to a Sub-Account; however you must create a new Location, Contact, and any Account-specific fields such as custom Profile questions, in the Sub-Account.

Status: Use the Status drop-down list to indicate the current state of the Event. Typically, this will either be set to:

Testing: Used for testing whether the Event configuration and Forms are operating properly.

Live: The meeting is currently accepting real registration data.

There are several additional Event Statuses that can be used to indicate the state the Event is in, both before and after the Event takes place.

Notes: A place for you to enter planner notes about the Event. Please note that if the Event is being used as a Template, the Notes will be displayed in the Template Description on the Event Templates screen.

External Event ID: This is an identifier from an external database that uniquely defines the Event for another system. It must be unique for all Events within one account. Use this field if your Event has its own Event ID on the planner side, separate from the Event Code. These ID's are your internal company reference (i.e., external to Certain).

Note: Do not change this value unless you fully understand how Certain integrates with your external system.

Venue / Location: The Venue / Location is the place where the Event occurs. For instance, a Venue / Location might be a conference center, a convention hall, or a hotel where attendees are also lodged. If the Venue / Location does not appear in the drop-down list, you can select "Create a New Location" in the drop-down. If an Event is virtual (web-based, without a physical presence), the Venue / Location could be the Event moderator's address. If an Event has multiple locations (such as a road-show), you may choose to enter "Multiple Locations" as the Venue / Location name.

Note: Venues / Locations are shared across Events within an Account. Once you create a Venue / Location, you will be able to select that Venue / Location when creating a new Event within your Account in the future. If you make any changes to that Venue / Location record, that change will be reflected in any Event within the Account that is using the same Venue / Location.
These sections will only appear on Event Details if they have been set up by an Account Administrator at the Account Level:
Custom Event Data: This section shows any custom Event Data-related questions configured at the Account Level by an Account Administrator.

Examples of custom Event Data-related questions: Meeting Type, Meeting Planner, External Event Website URL, etc.

These fields can be used as internal reference information for your organization and can be included in Event consolidation reports. They can also be added to an attendee-facing Form, website or email as a data-driven field.

Note: If no custom Event Data-related questions have been defined in the Account, this section will not be displayed under Event Details.

Role Assignments: This section includes:

Roles – A list of all custom Roles that have been defined for the Account.

Users – A list of the Users available to be assigned to the corresponding Role. User names are listed in alphabetical order. The default option is blank (i.e., no User assigned). One User may be assigned per role, per Event.

Note: If no Roles have been defined in the Account, this section will not be displayed under Event Details.