The Event Registration Contact is the person or organization who provides registration support for the event.
If an individual fulfills this role, then his/her name should be listed as the Contact.

If an organization or group of people provide registration support (for example, Registration Services), then the group name should be listed as the Contact.
Registration Contact information is shared across an account (or sub-account). If it is not the first event in your account, you will have the option to select from a list of existing Registration Contacts.
*Note: Any changes made to a Registration Contact's information will affect that Contact's information in all other events in the account using the same Registration Contact. If you do not wish to make a global change, click the Add New link at the top of the page to create a new Registration Contact with alternate details.
Creating or Editing a Registration Contact
Navigate to Plan > Event Setup > Overview, and scroll down to the Contact section.
Select a Contact from the drop down list if the Contact already exists.
If the Contact does not already exist, click Add New.
If the Contact information needs to be updated, click Edit This Content (Remember, the changes you make will affect this Contact's information in all other events).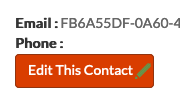 Where Contact Information Appears
Emails sent to Registrants from the Certain Platform will have the Contact's email address in the "From" and "Reply To" of the email, so that Registrants will respond directly to the Registration Contact if they have questions.

The Contact information can be displayed using data-driven fields on the Event Website, Registration Form, and in the body of email confirmations or templates. This is helpful when setting up a template event to be used for a series of similar events with a different Contact for each.


Each page of the Registration Form has a link to a Registration Assistance Form that displays the Contact information and enables Registrants to send an email directly to the Registration Contact, including event details by default.