You can manage Assets, such as images, style sheets, scripts, and other miscellaneous files for use in your Event. You can access Account-Level assets and upload assets to your individual Events by navigating to Plan > Configure > Display > Assets.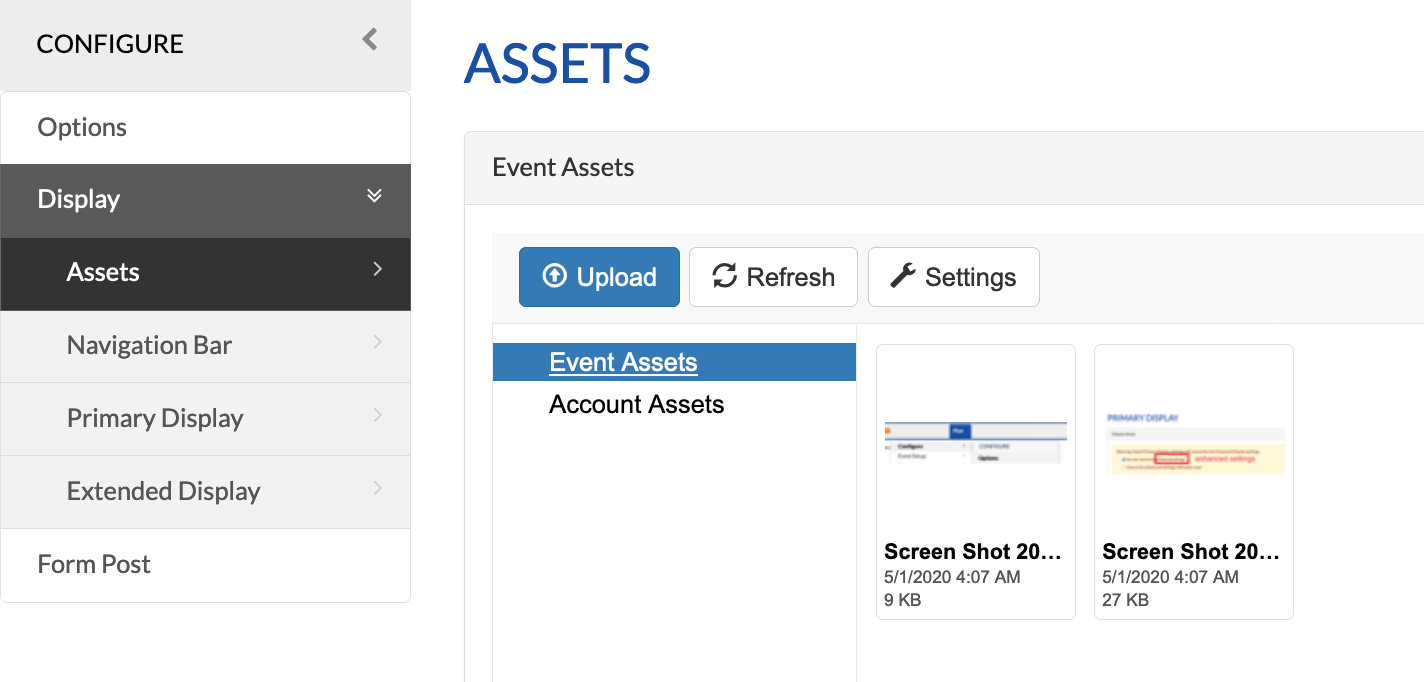 Event Assets
You can upload assets used for your Event.
Upload: Upload a file from your computer to be used in your Event (be sure to first select Event Assets if you want to upload a file to the Event, not the Account).
Refresh:

Refresh the assets list displayed, to show any changes.

Settings:

Select the options for how files are shown:

View:

Select whether to show files as:




Display:

Select the fields to show for each file:




Sorting:

Select the field by which to sort files:




by File Name

by Date

by Size

by Extension

Search:

Enter all or part of the filename in the Search bar to find.

Files:

The thumbnails or list of files (as determined by the

View chosen in Settings)
Right-click a file for these options:
View

Download

Resize (for image files)

Set a new size (Width and Height)

Create a new thumbnail

Small (90x90)

Medium (120x120)

Large (180x180)

Copy File Path (

for pasting into HTML for Websites, for example)

Rename

Delete
Account Assets
Administrators can add/edit assets at the Account-Level by navigating to Account Settings > Management > Assets.
How to Add an Image to Event Websites and Forms
Navigate to Plan > Configure > Display > Assets.
Right-click on the asset that you want to use.

Click

Copy File Path.



Navigate to the Website where you would like to place the asset (

Promote > Websites

).

Click the area where you would like to place the asset, and select the Image icon.



Add the copied file path to the URL field, then click OK.





The image will now appear on the Website.