This article will cover how to configure the payment options for your event.
Note: If you are not charging fees in your event, you may wish to remove the Finance Module from your event. To do this, go to Plan > Configure > Options within the event and un-check the Finance module.
Each event must be assigned a payment processing account if you want to process payments online for that event. The payment processing account is selected from the list of those available for the user's account. An event can have a different transaction limit and payment method options than its assigned processing account. Also, an event may elect to accept fewer online payment options than a processing account has available, or the event may elect to accept off-line payment methods such as checks and purchase orders.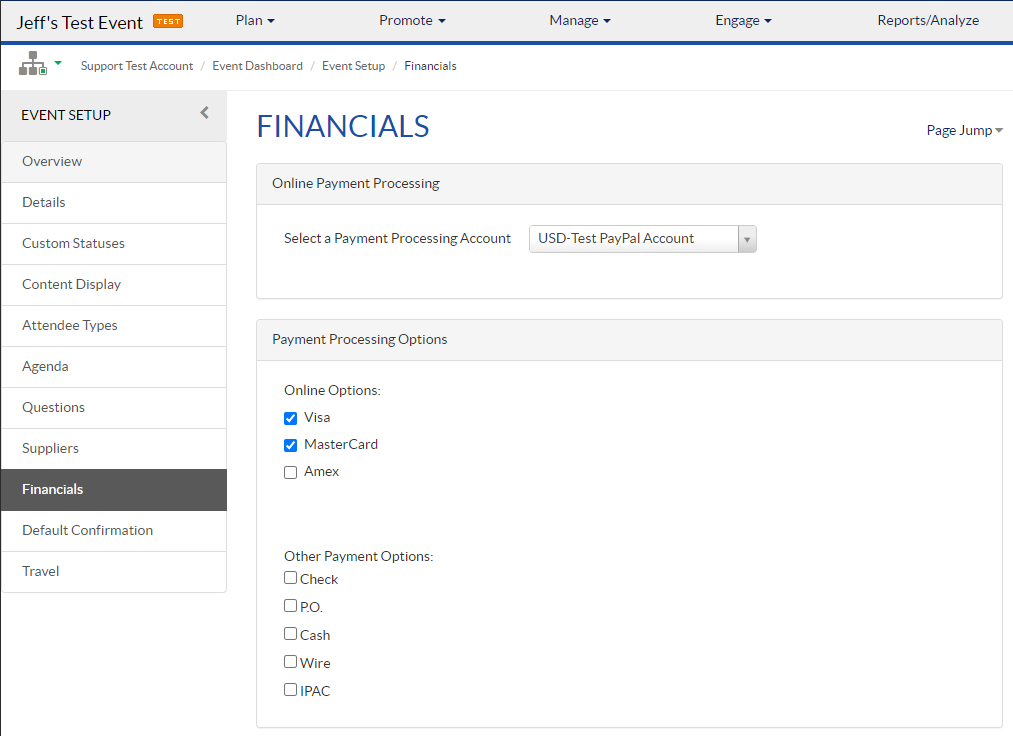 Configuring Event Payment Settings
Navigate to the event's Plan > Event Setup > Financials page.
If you are going to process payments online, select the processing account. Choose this first as it will clear any selected options on this page.

To set up a processing account, go to Account Setup > Registration > E-Commerce Accounts.

Select your E-Commerce account from the Online Payment Processing drop-down.
Select the payment processing options for this event.
(Optional) Select one or more of the Credit Card Security Options if you are processing payments online for the event.
Enter a number in the Single Transaction Limit Field to set a maximum amount allowed per transaction (the number cannot exceed 7 characters, including punctuation).
(Optional) Enter a G/L account number.
Click Save.