For sessions where attendees gather at a physical location, we recommend that you create and associate a Location. These Locations can be the meeting rooms, halls, tables, or any spaces you will want to direct Attendees to during the event. At the start of taking registrations, you may not know or have assigned the physical room for the session. In these cases we recommend using placeholders like "Room 1", "Room 2" or several TBD rooms with different Location Codes, and then updating the correct names once you have your event space list.
Note: With the release of 8.0, Locations are no longer required in order to schedule and publish a session.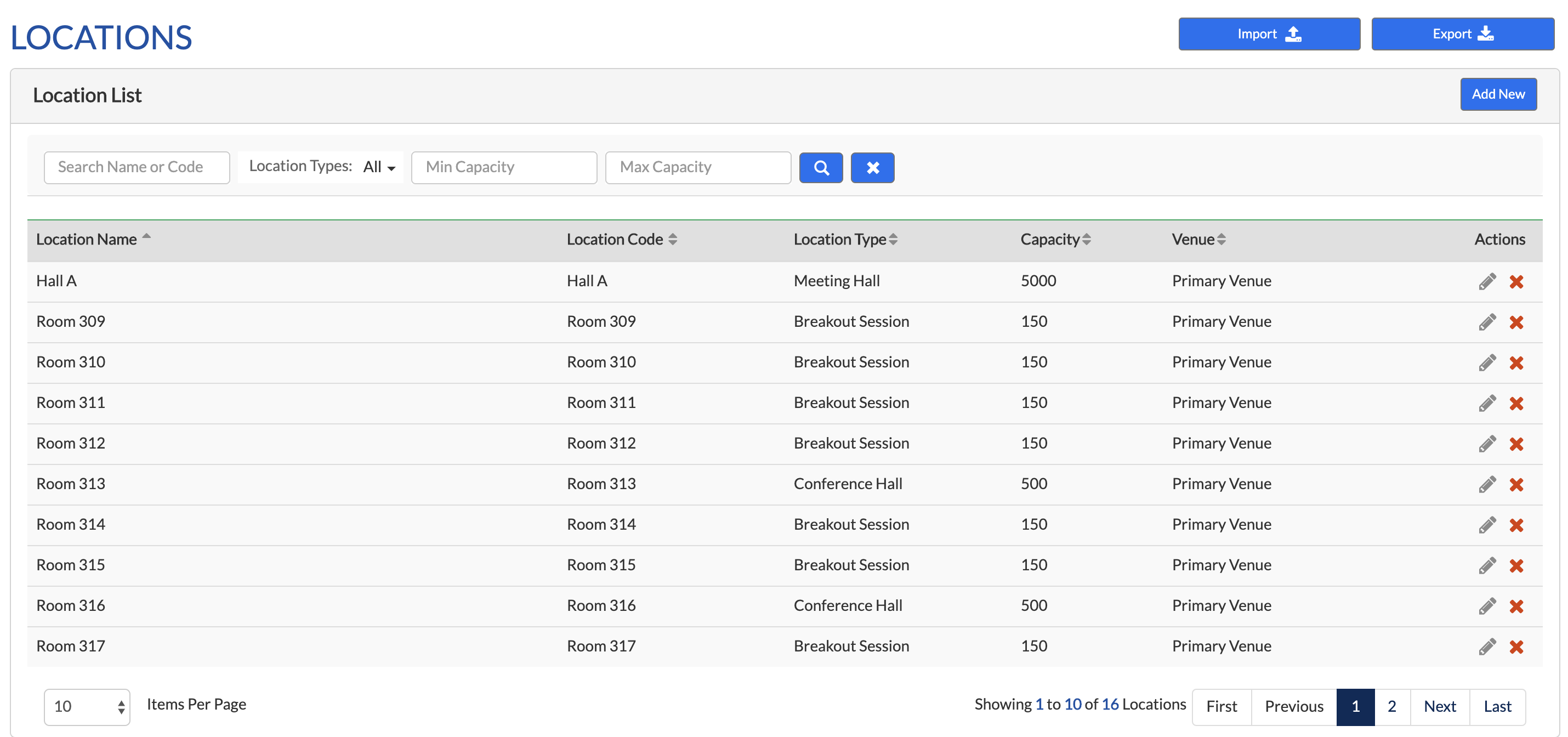 How to Create a Location:
Navigate to Manage > Speakers & Sessions > Location
Click Add New and you will see an Add Location Pop Up
Enter in all required fields. (Please Note: If using a placeholder like TBD, keep in mind that each location will need a unique code like Room 1 Room 2 etc)

When you set the capacity, please remember that this number is the Capacity for the Room and not the Session. When scheduling a session with a higher capacity than the room's capacity, you will receive an alert saying so!
Venues created will be saved for the Event. So once you create a venue, the next time you create a location, you will see the populated list in the dropdown

Click Save.

How to Import Locations:
Navigate to Manage > Speakers & Sessions > Location.
Select Import.
On the first screen of the wizard, select Download a sample Template for your Reference OR Download existing locations to modify content links in order to get the correct template to use for the import.
Create your new Locations by filling out the fields on the Excel Spreadsheet.

If Updating Current Locations - Please note: Do not change the code.

If you change the code, this will create a new location, creating duplicates.
Save your list.
Select the Import button in Platform, click Next, and Upload your list (.xsl, .xslx, or .csv).
Map the fields from your imported spreadsheet to the fields in Certain (this should be automatic if you have not changed the names of the columns).
Import and Refresh.
The Session Locations should import almost instantly unless it is a large number of Locations. You will receive an email once the import is complete.