In your Event, you will be able to create Speakers manually or via import. If you have created any Custom Speaker Fields under Session Setup, you will be able to add them to your import file as columns as well.
How to Add Speakers to your Event
Note: Any speaker you create must have a unique email and username. You will be able to create a new, linked Attendee Registration for any of the Speaker Profiles you've created - one by one, by mass action, or by turning on the option in the Speaker Portal Setup page.
Navigate to Speaker & Sessions > Speakers
Select Add New
Fill out the Speaker Profile. Any custom fields you have created will be at the very end of this pop up under the collapsed Custom Speaker Data box.
Save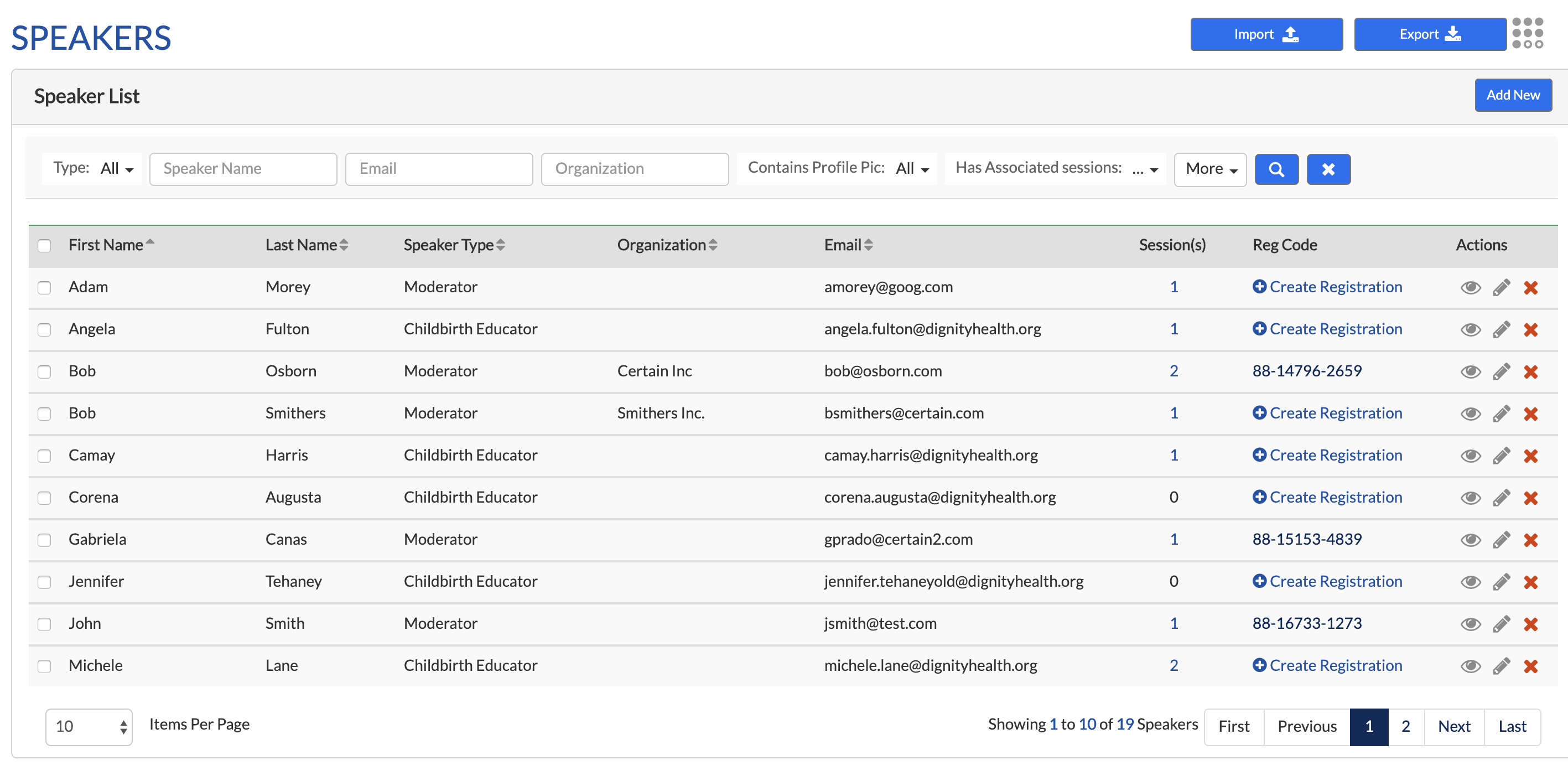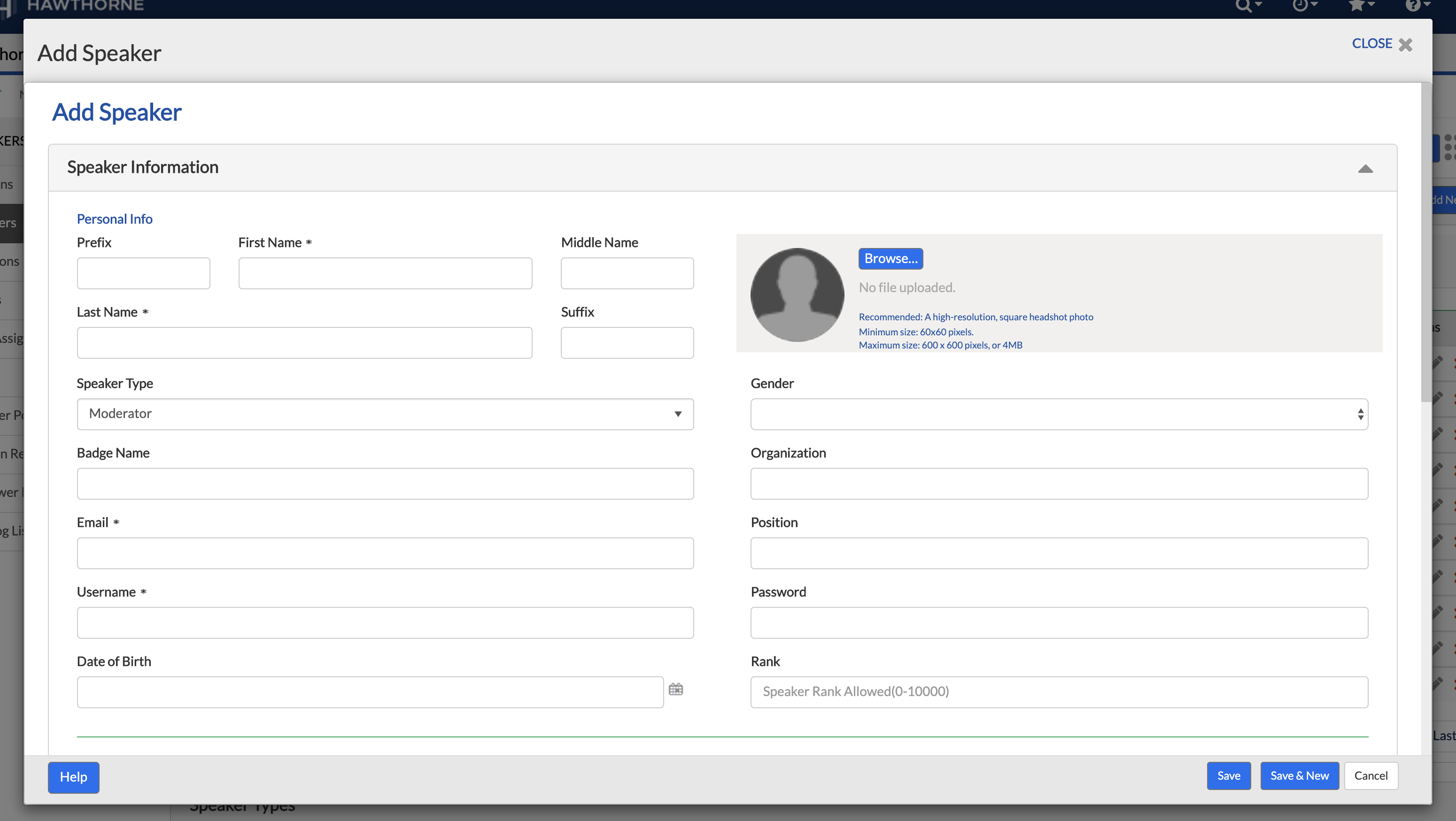 How to Import Speakers/ Speaker Updates
Navigate to Speaker & Sessions > Speakers
Select Import, and download either a template or existing speakers in order to have the correct import template.
Fill out the Speaker information. At minimum you will need First Name, Last Name, Email, and Username. (We suggest making the email and username the same, this way it is always unique per speaker.)
If you are making changes to existing Speakers,

do not change

the Username. If changes are made to the username, you will create a duplicate speaker instead of updating the current speaker profile.
Save your Excel spreadsheet as .xls, .xlsx, or .csv.
Navigate back to the Speakers page and click Import and Next.
Select your new Speaker File and map your spreadsheet columns to the fields in Platform. Click Import.
You will receive an email once the import is complete, but usually you can refresh the page to see the new speaker list.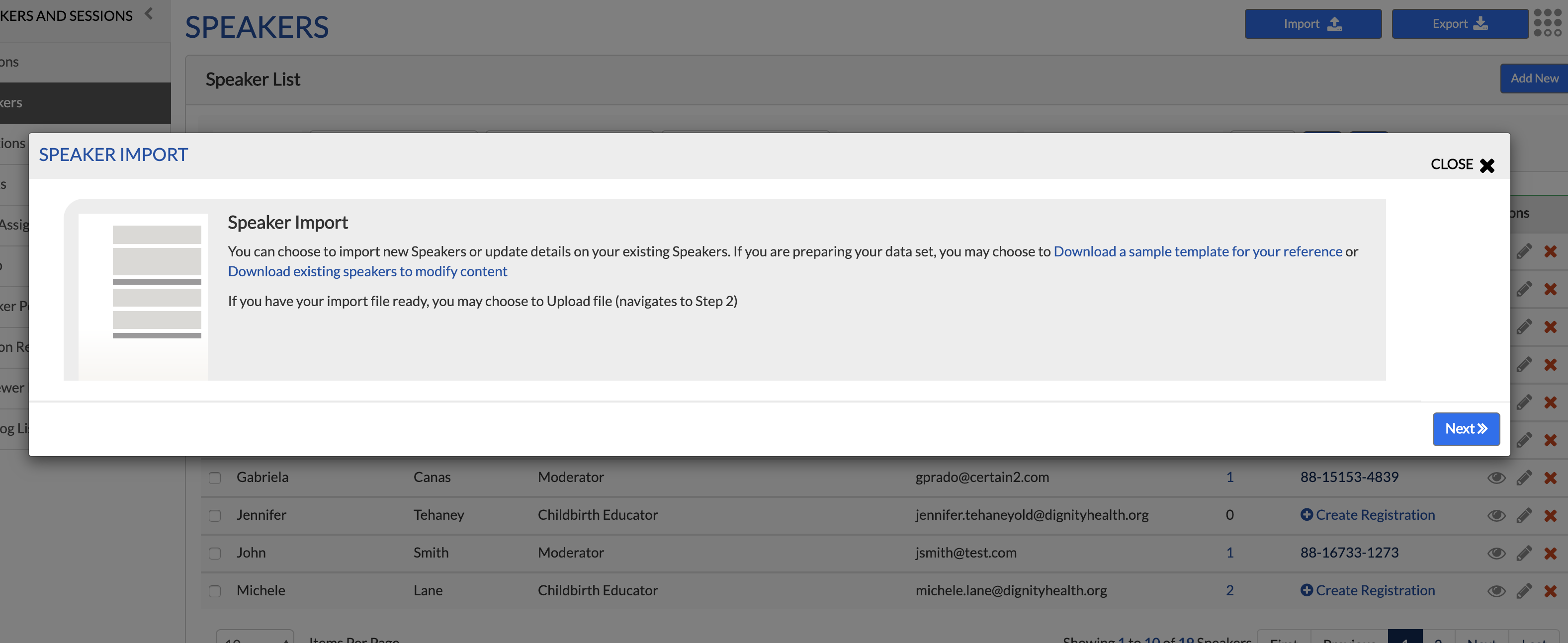 Creating Speaker Profiles using the Speaker Portal
If you are using the Speaker portal, anyone who submits an abstract will create their own Speaker Profile. You are able to control which fields they must submit along with their Name, Email, Username, and Password.
Existing Registrations creating linked Speaker Profiles
Existing Attendee Registration Profiles will be able to login to the Speaker Portal using their Profile Username and Password. This will connect the Registration to the Speaker. If they have already submitted their personal information, it will flow over to the Speaker Profile.